Automation realises 10X financial savings, increases efficiency and means better accuracy in our reporting.


- Warren Yancey, Marketing Director
Established in 1958, The Milner Group is a highly respected insurance brokerage in Atlanta, Georgia. Like all insurance agencies, it has been looking at ways to improve the service it offers its valued insurance agents. It also wants a laser focus on debt commitments.
Improving Customer Service
The processing of agent commissions relies on information flows from many carriers like TransAmerica Life Assurance and Legal and General America. Each carrier sends its commission reports to The Milner Group in a PDF document. Processing these reports more quickly means that agents can get paid faster.
10x Financial Savings Through Automation
"We've been doing this by hand for 13 years" says Danielle Graves, Director of Internal Operations at The Milner Group. "The last five years has seen a big increase in volume and we've been looking to automate it. We want to take the raw data from PDFs of multiple carriers and import these to OneHQ, our customer relationship management software Processing these PDFs by hand, copy and pasting the information every time, is a slow and laborious job. And we have a lot of PDFs to process each week".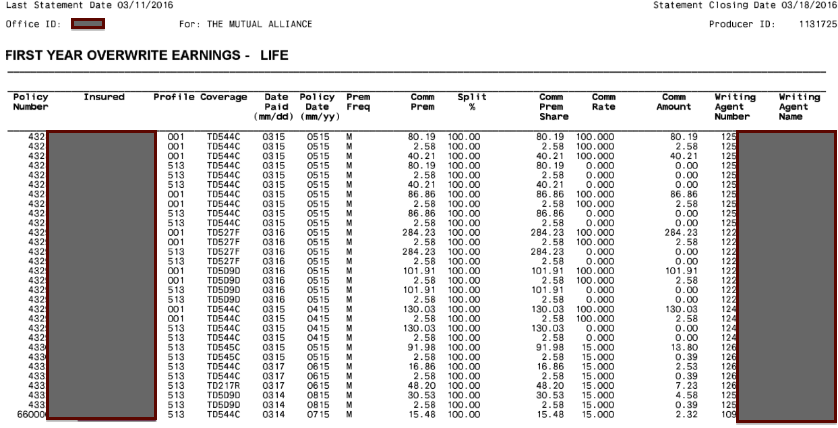 An example of the PDFs that are being converted on a regular basis
Josh Powell of Innovative Operations, Milner's trusted integrator, identified PDFTables.com as a solution. He's been working with our data engineers to create a system for Milner. The solution was developed over a few weeks.
"It's simple!" Josh says. "We've written a Ruby on Rails app that calls the PDFTables API, runs a series of validation routines on the extracted PDF table, and produces a spreadsheet for each carrier that's exactly in the form that the office staff need. In just a few mouse clicks, the operations team at Milner are ready to import carrier data to OneHQ. Our next step is to automatically push the data to OneHQ."
Danielle added, "I am extremely pleased with the progress and joint collaboration on this project."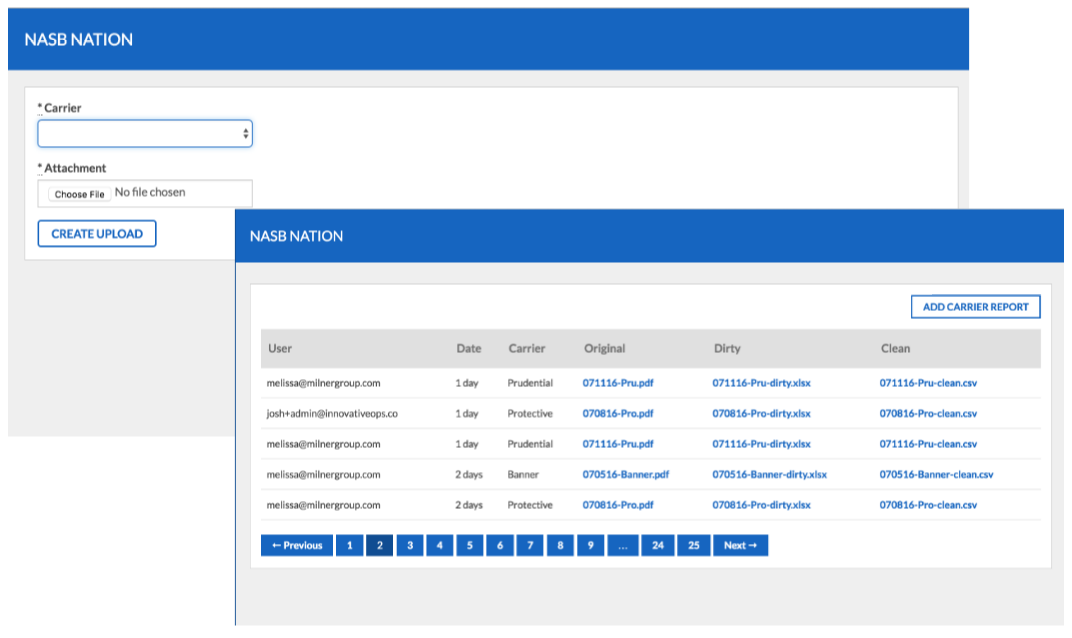 The new interface for automatically converting carrier reports
Supercharging Their Team
Warren Yancey, Marketing Director says, "We welcome innovation. Our ops team are saving a huge amount of time which can be better spent on direct customer service. Automation realises 10X financial savings, increases efficiency and means better accuracy in our reporting."
---
About Milner Group
The Milner Group is a full service insurance brokerage agency providing impaired risk, life, annuity, health, disability and long term care insurance products to agents nationwide.
About Innovation Operations
We help small and medium sized businesses leverage technology to streamline their operations, better share information, and manage complex workflows. We personally design and build custom software when appropriate, and integrate third party services when they deliver value.
Press Contact: Josh Powell / josh (at) innovativeops.co / Tel +1 (305) 814 4878
About PDFTables.com
PDFTables is made by The Sensible Code Company. We make products that turn messy information into valuable data. We work with systems integrators and corporate customers to help streamline front and back office operations that rely on external data sources. We also make TableBuilder, a privacy preserving technology that makes it safe to publish large confidential datasets.
Press Contact: Mattie / mattie (at) pdftables.com / Tel +44 (0)333 1211888