Blog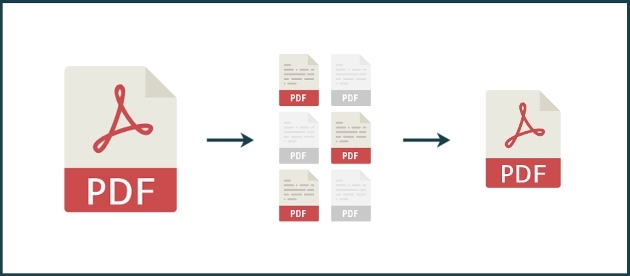 In this tutorial, I'll be showing you how to use Google Chrome to extract pages from a PDF document and add them to a separate PDF file.
---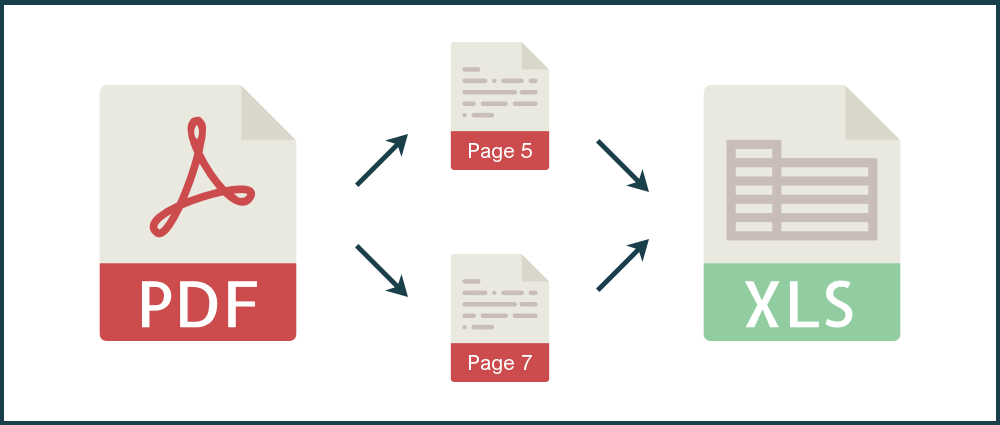 In this tutorial, I'll be showing you how to use Python to convert specific pages of PDF tables into Excel, with the PDF to Excel API.
---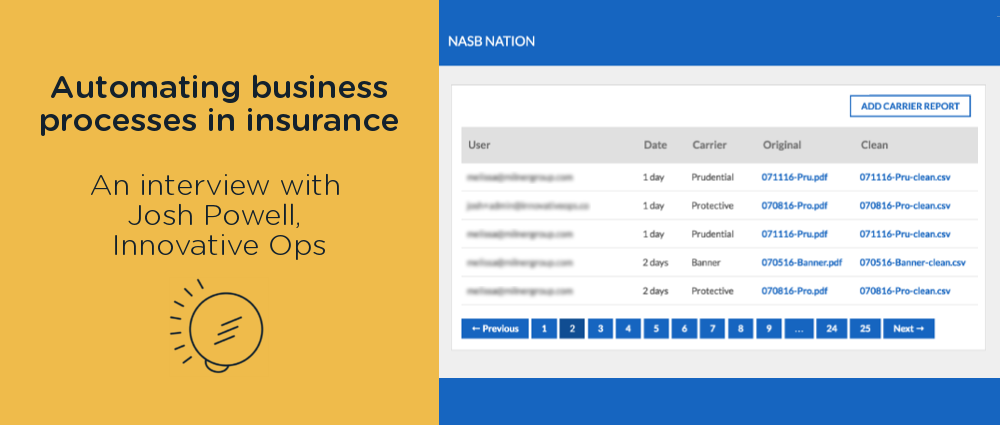 Josh has extensive experience both on Wall Street as a trader and analyst for 15 years, and in developing software solutions through his current consulting business, Innovative Ops. We spoke to him about a process automation system he built for an insurance client, and how he integrated our PDF to Excel API.
---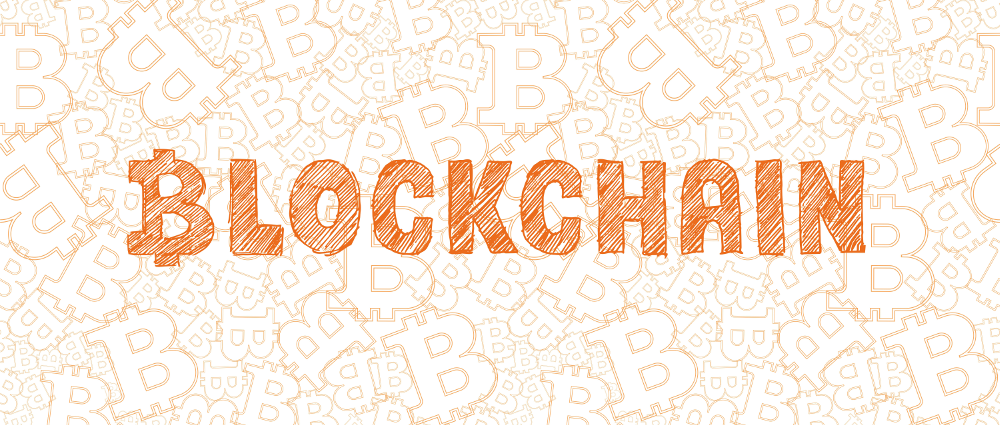 There has been a storm around blockchain technology in the past few years. Headlines declared the end to currency as we know it, whilst start-ups claimed to have eliminated the need for the banks. All the while, experiments and adoption rates have steadily gathered pace in a number of industries; not least in FinTech and InsurTech.
---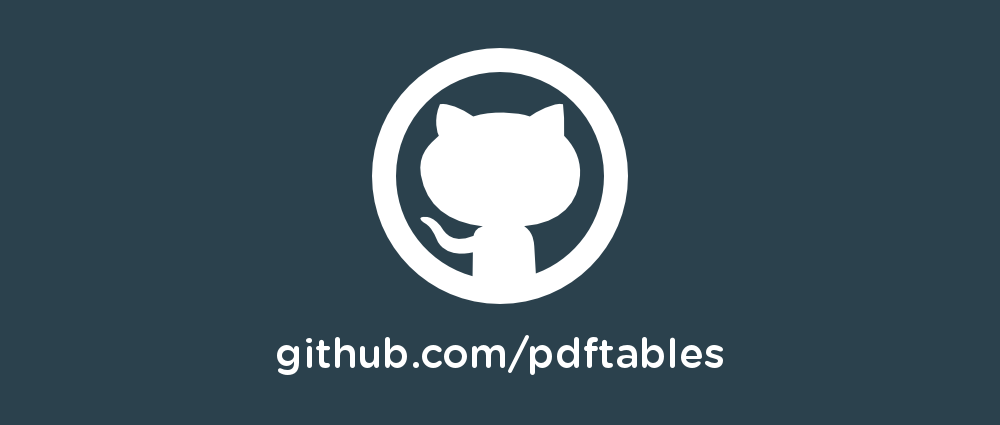 If you aren't already aware, PDFTables has an API! You can interact with it in a number of languages, including Python, PHP, Java and many more.
---
So you've found a tutorial that shows you how to code a macro, but you've hit a roadblock: where's the Developer tab they keep referring to?
---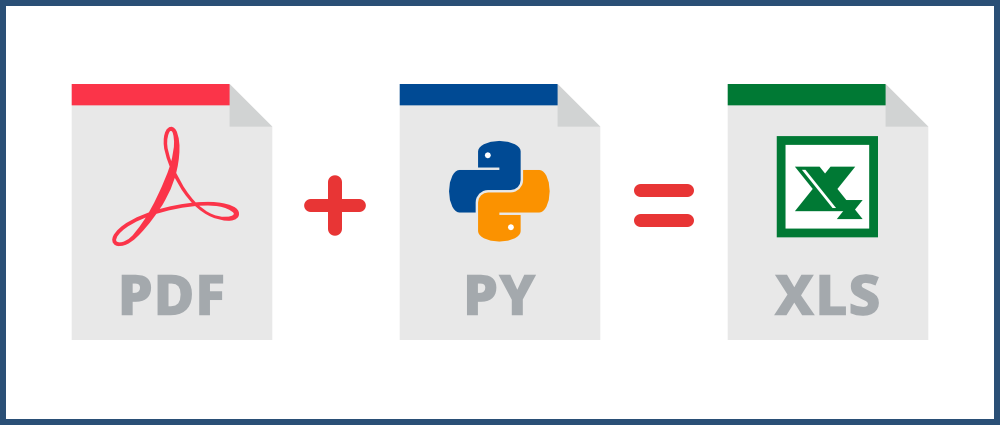 If you're a Python user, and want to be able to convert PDFs without uploading it manually to PDFTables.com, you can make use of our brand-new Python PDFTables API.
---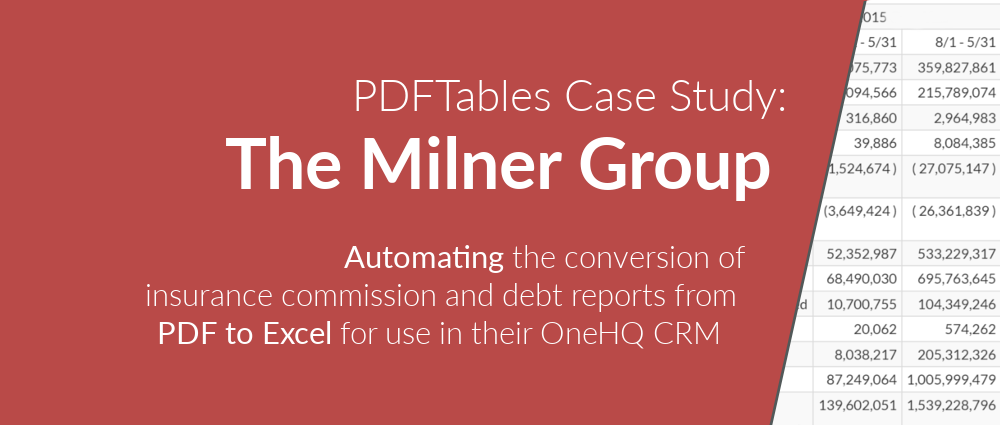 Automation realises 10X financial savings, increases efficiency and means better accuracy in our reporting.


- Warren Yancey, Marketing Director
Established in 1958, The Milner Group is a highly respected insurance brokerage in Atlanta, Georgia. Like all insurance agencies, it has been looking at ways to improve the service it offers its valued insurance agents. It also wants a laser focus on debt commitments.
---
We continue to improve the algorithm that analyzes and retrieves content from your PDFs. We've recently implemented some larger updates to our algorithm and thought this would be a good opportunity to show you some of our work!
---
More people search for "pdf" (compared to other terms) than they used to. Over twice as many now as at the low point, back in 2007. That's in addition to the increase in overall search volume of all terms! Although to geeks PDF feels like a dated format, really it is about the same age as the web, and designed for a similar purpose - sharing documents. In 1991, executives didn't read on screens, so PDF differed from HTML by concentrating on printing. John Warnock, cofounder of Adobe, describes the vision in the very first memo on PDFs:
Imagine being able to send full text and graphics documents (newspapers, magazine articles, technical manuals etc.) over electronic mail distribution networks. These documents could be viewed on any machine and any selected document could be printed locally. This capability would truly change the way information is managed.
---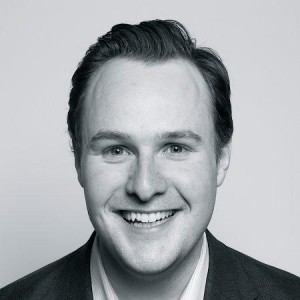 Henry Morris is always in a hurry. He's changing the lives of thousands of young people and he has no time to waste. When I asked what motivates him, he replies:
Working with amazing people to make a positive impact on the world
---