Downhill skiing, that is. Sitting at my desk with a view of Mont Blanc, I think remote working is the life for me.
Motivation
Being a woman in a male-dominated industry, it took guts to quit my 9-5 job as a Data Scientist. People would say I was 'lucky' to have the job. But I'd had enough and I deserved more. It gave me no satisfaction, I couldn't see any progression prospects and I was living pay cheque to pay cheque. So, I did it. I handed my notice in, left a month later and woke up the following Monday with the world in arms reach.
New Job
I left my job in October and within a month, I had landed the role of Technical Product Manager for PDFTables.com; converting PDFs containing tables to Excel via cloud or on-premises. The company, owned by Sensible Code, has a target to operate a 100% remote working policy by September 2018. They are very keen to hire technical women and are setting an objective to get as close as possible to 50/50 male/female workforce.
Let's Fly
Living in a ski resort had been on my bucket list for a few years, so for it to become a reality made me VERY excited. My partner and I arrived in France on 7th January where our Airbnb host picked us up from the bus station with our suitcases and skis in tow. I booked a couple of days off so that I could have a mini holiday before settling into full remote working life. This was our lunch spot on our first day of skiing – not bad!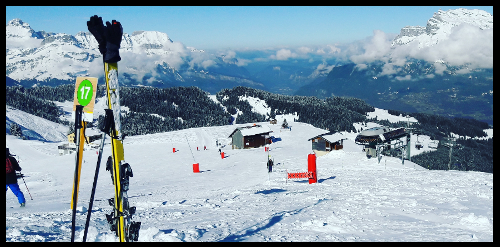 A Day in the Life
I started my first remote working day on January 15th. Communication is key for remote working. We all talk on Slack throughout the day, both work related and general chat. This helps for us all to be aware of what everyone is doing and who is available at what time. A normal day for me consists of answering email enquiries, marketing and analysis. For any enquiries about our on-premises solution, I would set up a call with the user to firstly, show that we are real people and secondly, to understand their use case and come up with a pricing plan to suit their needs. Most of my focus is on marketing PDFTables currently through Google Adwords and Social Media. Other tasks include writing blog posts and analysing website performance. So far, 1 month in, all is going to plan. I've had days where I've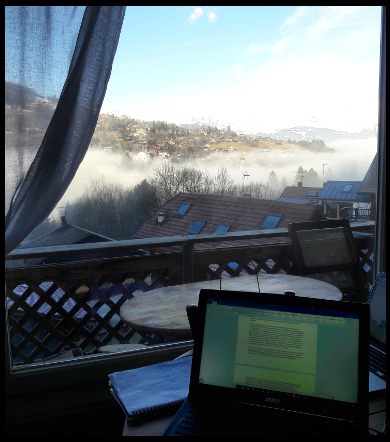 felt a little lost on where to go, but I go back to my plan to get myself back on track. Plus, I've got a great bunch of colleagues who are very helpful and always willing to answer my 'there's-no-such-thing-as-a-stupid-question-but…' questions!
Work, ski, work
This style of working requires self-motivation and self-discipline. I have set myself up a desk in the kitchen area of our apartment. Mornings consist of working from 8am until 1pm. I'll then go out for a ski or a walk with my partner for a few hours. Then, it's back in the evening for dinner and the rest of the days work. There are mornings when I look outside and long to be on the slopes, however I know that I have Fridays and the weekends for doing that. I need to remember I'm not on an extended holiday!
Admittedly, we've struggled to meet many people here due to our work hours and ski schedule. I'm OK with this short term but I need to make sure I put time aside to keep in touch with family and friends back home. One of my best friends from home currently lives in Australia and I'm over in France, so my group of girlfriends and I have a monthly Skype call to catch up on all the gossip!
Are you next?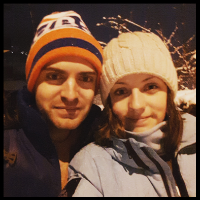 That's enough rambling from me for now. I hope you have enjoyed reading about my first month of remote working and I've inspired you to give it a go, but only if you think it could work for you. If you have the travelling bug and want to keep your career going or you just want to make some changes, go for it. Contact some companies, push for what you want and book those flights! Also, remember, being a woman in a male-dominated industry should NEVER stop you achieving what you want to achieve. If you have the experience, skills and a great personality, why shouldn't you get that job?
Talking of jobs..
Sensible Code are hiring. We are looking for a Software Engineer (Golang desirable). More information here.